This time we were able to attend the performance of Develop One`s Faculties  at NAGOYA DIAMOND HALL. for  "fiveStars 10th ANNIVERSARY LIVE. 『A LIVE』" en la sala NAGOYA DIAMOND HALL.
Ambos lugares enclave en Aichi para la cultura del visual kei y el Jrock:

fiveStars is the store if you are looking to buy items and CDs from your favorite visual kei artists. They also usually hold "instore" events as purchase bonuses, which allows fans to meet their favorite artists, get their CDs signed or even take a picture with them!
NAGOYA DIAMOND HALL is a well-known livehouse in the Chubu Region. It is where all the important visual kei concerts in Nagoya take place (whether they are oneman concerts or taiban – festivals where more than 2 bands play at the same event). 
We have been wanting to document one of Develop One's Faculties's events because of their singular trajectory as a band, which we will mention later. This was also the perfect opportunity for us, as we were curious about how the atmosphere of concerts in Nagoya differed from those in Osaka or Tokyo (Nagoya being the third city with the biggest fanbase)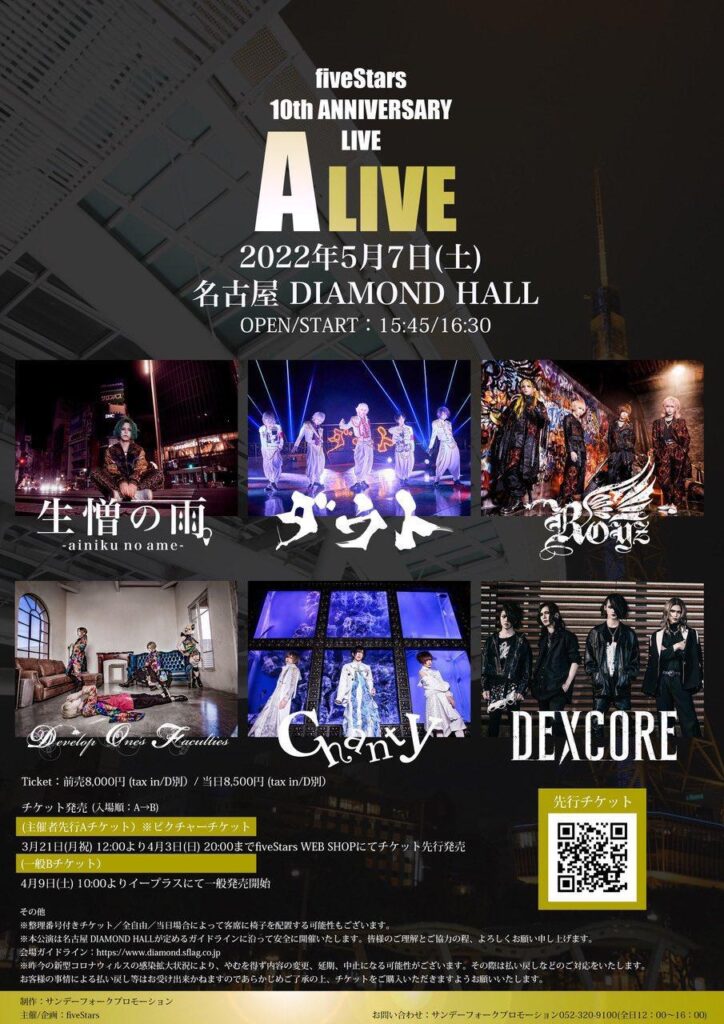 Develop One's Faculties (often shortened to DOF) was founded by yuya (Aichi-native, vocalist and guitarist). After the disbandment of his previous group cocklobin (where he initially only played guitar), he decided to start a new project.
Although based in the metropolis of Tokyo, DOF has been actively touring the country, charming and enchanting fans with their unique style, an elegant yet warm rock sound that no one can resist moving along to.
Their costumes are also aesthetically striking, mixing patterns and textures, a modern twist on steampunk fashion. Johannes' outfit stands out the most to us, a revealing costume with a multitude of intricate gadgets as accessories.
On May 7th, in Nagoya, it was a perfect summer day: sunny and nearing 30 degrees celsius. Despite the scorching heat, as we approached the venue, we caught sight of a flock of people dressed in black. To the untrained eye, one might believe all those people were lining up for the same band but in fact, we could distinguish different band t-shirt designs. Fans were buzzing around the entrance, mingling excitingly. This is the magic of taiban events; fans gather to meet old and new friends and to see their favorite bands but also to discover bands they didn't think they were going to like…
The day's lineup, varied and quite impressive, was: Ainiku no ame, D=OUT (which we have covered before on NIPPONGAKU), Royz, Develop One Faculties. Chanty and DEXCORE.
Fans lined up early to enter the room and to have the opportunity to buy limited goods sold only at the event.
On that day, the opening act was Develop One's Faculties. 
At 16:30 sharp, the faint sound of music playing in the background suddenly turned louder and louder, the usual signal that the show was about to start. The curtains opened and revealed the members of DOF who were all already in position.
Without making us wait any longer, Yuya brought his face closer to the microphone and started singing the first line of "Intelligible" while strumming his guitar energetically.
For "Shinjitsu no Kuroi", we felt the song had a refreshing feeling and it was as if a breeze of cool air was let into the livehouse on this unusually hot May evening.
This being said, the heat didn't seem to affect the members of Develop One's Faculties, who moved frantically from one side of the stage to the other while managing to play with a liveliness that was so infectious that attendees couldn't help but dance along.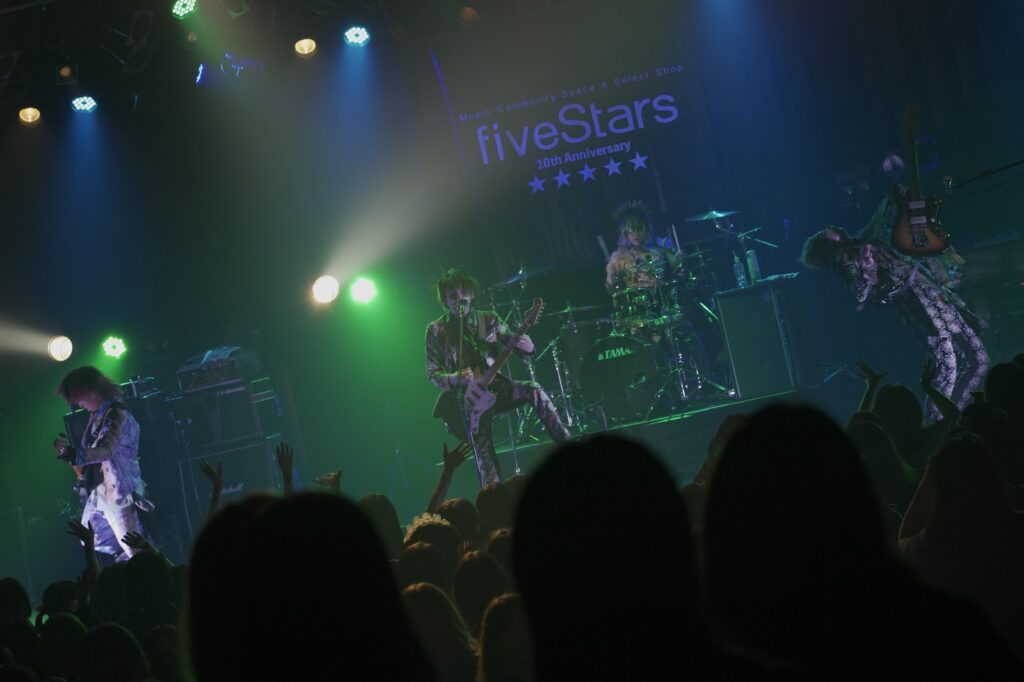 The moment where Rui stood out the most was undoubtedly in "Madara". He gave off a powerful aura on stage. Under the red lighting, he played his guitar riffs so passionately that we had goosebumps watching him. 
Rui was unstoppable.  In the middle of a song, he decided to run from one end of the stage to the other without missing a single beat. This kind of rockstar attitude is definitely a talent that isn't given to all. Together with Johannes, they finally gave us the long-awaited moment of headbanging!
As the members took a quick break between songs, Yuya took the opportunity to say a few words, thanking the Nagoya bands (DEXCORE, etc.) for being able to play beside them and everyone else in the audience for attending the event.
The beat of Develop One's Faculties's  "insomnia" was so electrifying that it even managed to make fans wearing other bands' t-shirts dance. Music was definitely the common language that day at DIAMOND HALL.
It was truly a pity that the audience could not sing along to the chorus (following COVID-19 restrictions) as the song seemed perfect for that and it would have certainly been memorable.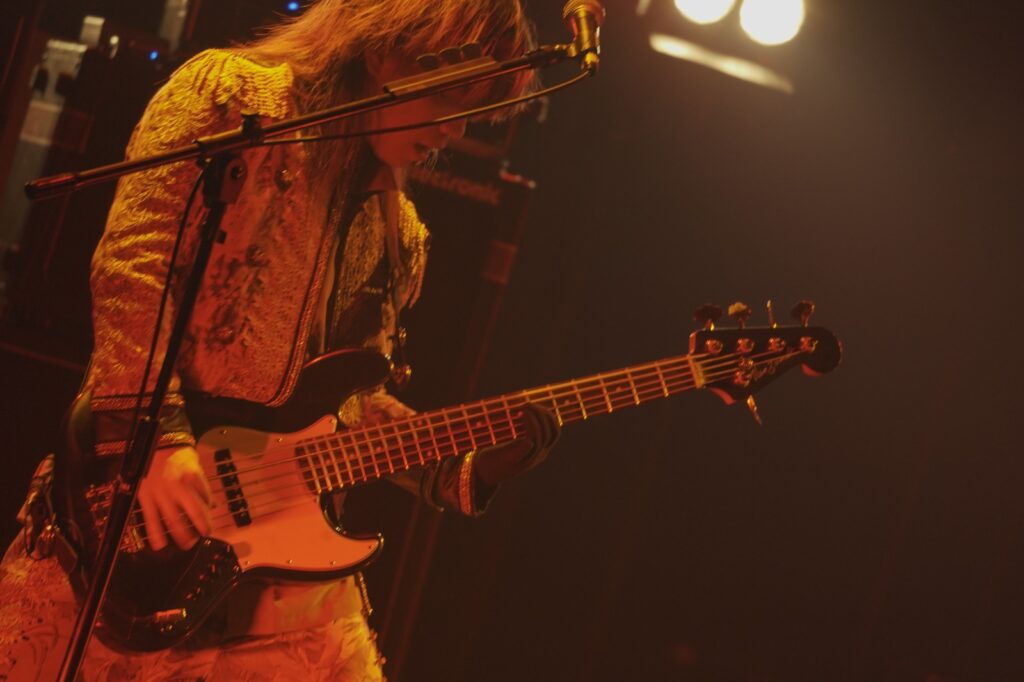 Hiromu's bass resonated throughout the room despite being quite spacious; you could almost say that he made the entire floor vibrate in "My world" to give way to the grand finale. 
Before saying goodbye, Yuya commented it was an amazing feeling to be able to return to the Aichi region.
Yuya mentioned that it was his birthday the next day and joked that he couldn't remember how old he was. He also mentioned that the best gift he could receive this year was to be a part of this event and for his fans to come to the concert held in Tokyo the next day.
The lighting dimmed as Develop One's Faculties left the stage. All we could see in the darkness were the steampunk accessories that Johannes incorporated into his look, like glowing red lights coming out of his head.
A mysterious image to close their appearance that day that left us mesmerized. If Develop One's Faculties were able to do that in a taiban event, then what scenery can be seen at their oneman lives?
As expected, Nagoya definitely has a warm, welcoming atmosphere and its musicians are particularly talented. Given the chance, we would like to come back and see what more incredible bands this city has to offer.  
We also hope to hear more from Develop One's Faculties very soon.

Next week, we will have an interview with them…
Do you have any questions? Let us know in the comments!
DaizyStripper. fiveStars 10th ANNIVERSARY LIVE.『A LIVE』@Spotify O-EAST (Live Report)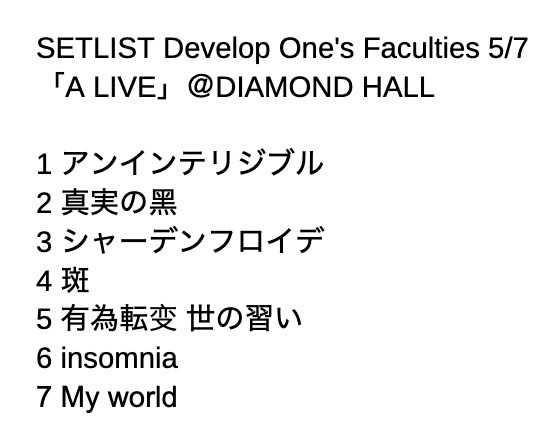 (Proofreading: Fatima A.)
(Cameraman: Rami)
LINKS
DOF twitter / DOF website
yuya twitter / yuya instagram
rui twitter / rui instagram
Hiromu twitter / Hiromu instagram 
Johannes twitter / Johannes instagram